Book MOT






Welcome To Eco Tyres Southampton
Eco Tyres and Auto Care are one of the best tyre fitters in all of Southampton. Our unmatched customer service and the knowledge of our expert technicians make our customers come back to us again and again. We provide high-quality, affordable car tyres Southampton, and the cheapest tyre fitting service in the Southampton area.
The charges mentioned on our website is the last cost for the tyres and services; we assure you there are no hidden charges and you will not pay a dime apart from what's quoted.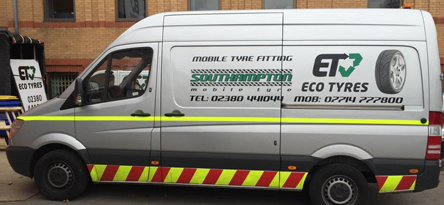 Anytime Mobile Tyre-fitting Service
We provide a 24X7 mobile tyre fitting service. If you need urgent tyre replacement here in Southampton, you can always call us. Our expert will reach you as soon as possible, and get it replaced quickly. While placing your order, you can pre-hand tell us that you will need us to fit them as well, replacing the old ones; we will fulfil your need along with the delivery of your tyres Southampton.
Exclusive Tyre Brands to Choose From
On the one hand, we have a stock of exclusive tyre brands that include: Ultra-high-performance tyres Southampton from Pirelli and Michelin, while on the other, we bring you quality in affordable budget with brands such as NEXEN tyres. Whatever is your need, we guarantee to fulfil it.


Services & Repairs
When you visit us for your car service and MOT, you get full technical support for your vehicle. Our staff is committed to serve you better and provide vital car services like wheel alignment, mobile tyre fitting, and tyre fitting at our garage.
Heavy Discount?
Don't worry if you are not our regular customer and are stopping at our garage for the first time. We have offers for everyone. And if in case you are one of our old customers, you already know about the heavy discounts we provide.

Mobile Tyre Fitting
We have a swift van at our disposal, equipped with an expert technician and a range of tyres, ready to reach to you in no time, if your vehicle is in an urgent need of a new set of tyres Southampton.
Mobile Tyre Fitting
Tyre Fitting
You can choose from a catalog of a wide range of tyres Southampton. If you need them urgently, we can make them available to you on the day of the booking itself.
Tyre Fitting
Branded Tyres
We sell high-quality cheap tyres Southampton from profound brands at a reasonable and affordable price. We have a stock of branded tyres ranging from Michelin to Pirelli. We have them all, exclusively at your disposal!
Branded Tyres





Why Choose Us?
Customer satisfaction remains our priority.
Extensive collection of top-grade tyres.
Book online services via our website and skip the queue.
Skilled and trained experts to carry out excellent car services.
We supply & fit tyres for all major vehicle manufacturers
Our Recent Google Reviews
I came in with a confusing car tyre pressure light that was on / off and then thought I had a slow puncture. Very fast efficient and honest diagnostic of the problem - I had set tyre pressures too low - and reset to the correct setting with advice as to how to maintain the correct setting and charged a fair and reasonable price for this service. Trustworthy honest and efficient service - what more could you ask for?!
Helped me massively with a flat tyre and putting a new one on! All done in no time at all really. Will 100% be saving their number for if I need them again for mobile tyre fitting. Thanks!
Had warning light on my mitsubishi Outlander PHEV and stopped here, they replaced all 4 tyres and also TPM sensor in 2 of the tyres as recommended by Mitsubishi. Service was great, tried to resolve the error code as best as they can. Staff were helpful and we had good laugh. I appreciate the service I received on the day.
Great start to the year for me with a flat tyre on 1st January 2022. Mobile service came out to Petersfield from Southampton and fitted 2 new tyres for very reasonable cost and a very reasonable out of hours charge it being a bank holiday. Fitter was so polite and all fixed and back on the road within 30 minutes. Thoroughly recommend this company.
Really impressed with Eco Tyre! Damaged my wheel, bent the wishbone and popped my tyre recently hitting a curb, Eco Tyre had my car in the garage and fixed within 48 hours! Superb service.
See All Our Google Reviews